A couple of recent used purchases (Benz and DL304) from some recent clear out funds and a wet day (no motorbike
) has lent the opportunity to try a few cartridges out. Not really a big shoot out or anything as each has their own strengths and ability. And weaknesses of course. These are just a few observations and personal opinions.
Each is roughly in the same sort of price bracket.
The BN, Benz and OC9 (by memory as no longer mine) listened on the RD110/774 and the Denon on the Logic/GH220 simply because it is too fussy to set up and it has taken me too long to tweak it in to where it stands at the moment.
Tracks used:
David Bowie – Ziggy Stardust
ABC – Lexicon of Love
Martha and the Muffins – Echo Beach
Eric Clapton – 461 Ocean Boulevard
U2 – Joshua Tree
Duran Duran – Rio (yes really!)
Dvorak – New World Symphony
Grieg – Peer Gynt
Blue Note Boboli - micro eliptical - Cu 8 – 1.4gm – 100 ohms
An old favourite of mine first as I have lived with this baby for a number of years now and seem to have a feeling for 'how it should sound'. Not easy to set up as a bulking great lump, low compliance and very fussy with reference to VTA. Non colour coded pins which doesn't make life easier.
For me the simplest way to describe the sonics are powerful yet neutral. Energetic transients which lead to a fast powerful blend. Offers a very spacious musical view with depth, width and imaging, instruments being placed very nicely within the overall picture. Inoffensive in the treble register and usually displaying a detailed mid-range, but may become a little muddled on more complex arrangements with vocals tending to drift in to being a little 'shouty'. Involving and a great insight in to musical texture.
Very suitable to my musical taste, but handles orchestral with equal gusto, poise and finesse.
In my opinion a bit of class leader at its price level and hence why it has remained my own reference for some time now.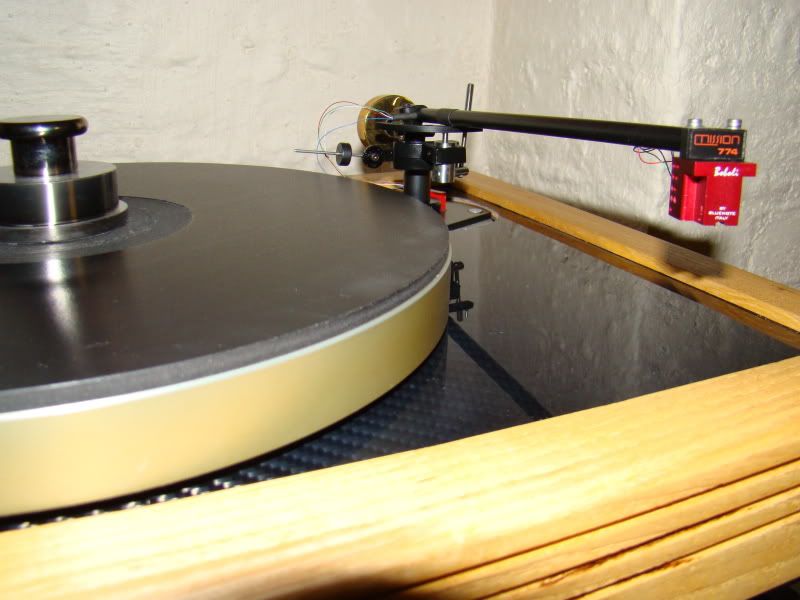 Denon DL304 – Special elliptical – Cu 14 – 1.25gm – Settled for 100 ohms as preference
Very new to me as my first ever experience with a Denon. Bought second-hand with a claimed less than 50 hours which I have every reason to believe as it is getting better with each play and I am sure it is still not fully bedded in. A very nicely made cartridge and easy in its own rights to set up (it is the arm which is a pain). You have to look twice to realise there really is a cantilever and stylus, so fine they are.
I wasn't quite sure what to expect and I am still trying to figure out exactly what the sound is. Bauzace mentioned it sat firmly in position as to which side of the fence it is on, but I am not quite sure I could agree to the same. May be it is because I am new to the Denon sound, I don't know as yet. The verdict is still out. I need more time with it.
Certainly very musical in that it captures the tempo of the music very finely indeed and keeps the rhythmic side in check. The treble is probably the best I have heard for a long time, very detailed, and very delicate. The bass wonderfully portrayed without being bullish which I have to admit the Blue Note can be at times; being very strong in this register. It is the mid-range though which has me rather at ends. I am not quite convinced the same quality of detail is being extracted in say comparison to the OC9 (I have mentally ended up tagging the OC9 and the 304 in the same bracket for some reason). There was a very realistic heavy strumming of the acoustic guitar on Bowie's 'Starman', but it seems to be at the sacrifice of other instruments which got rather 'lost' in the the big picture. The same of Duran's 'Rio' where the keyboard to the title track just seems to wander off.
Don't get me wrong I love the Denon, but I am still coming to terms with the Denon signature. Musical without a doubt, but it is holding back from letting me get 'under the skin' of the music. I still need to work on this baby much like it took me time to find the best settings for the Blue Note and I am still not convinced it is fully worked in as yet. It is like the cartridge is saying 'look I have better yet to come'. I shall persevere. People haven't said it is outstanding because it isn't and I have faith in their beliefs.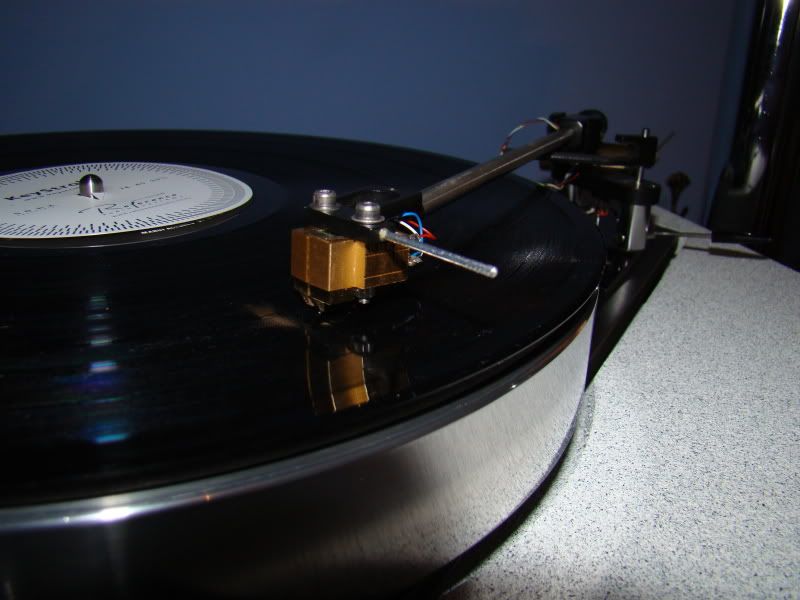 Benz ACE S/Medium – Gygar stylus – Cu 14 – 1.6gm – 220 ohms
Why a medium? Because it was a damn fine price.
Undecided whether it is best used on the MC setting or the MM and throwing the volume up instead. Appears to have slightly more guts when used on MC. Or am I just fooling myself because the gain is higher? Mmmmm food for thought together with the use of some ears.
Beautifully constructed and an almost naked cartridge in appearance. Bit of a swine to set up as not one straight edge to line up with my Mayware protractor. Being clear doesn't help the cause either. Sounds stupid, but I needed a small torch to help line up, and the same with azimuth.
Now this is getting there. A claimed 200 hours and in all honesty it sounds pretty 'run in'. Probably closer to the Boboli than any of the others in terms of presentation, except it has amazing depth and instrument positioning. A strong taught bass (possibly a tad exaggerated) with great transient qualities leading to a powerful musical stage. I thought at first the treble was being 'drowned out', but on the Joshua Tree the cymbals were so so delicate yet strongly outlined. There is a slight 'dryness' to the sound at times, but if anything is worthy of note is the way it surgically cuts between good and crap recordings. I feel as though half my record collection has just become redundant.
Again early days and again I need to tweak, but if this can be improved upon (and I am sure better has yet to be extracted as I think a bit more VTF required due to it being used. Any hints anyone?) then I am about to bowled over with a cartridge for the first time in a long time. And I am told the Glider is another step up again. Breath-taking!
Audio Technica OC9 MLII – Micro line – Cu 9 – 1.6gm – 100 ohms
Recently sold on to another VE member who by all means is extracting a lot of pleasure from the OC9. Solidly made cartridge with a fine boron cantilever and stylus which somehow give the impression of 'I am about to fall to pieces if you even look at me', but thankfully never has. Bit fiddly with the 'nut and bolt' securing in comparison to the threaded bodies of the Benz and BN.
Bauzace described the OC9 as being 'you either love it or loathe it' and it is not difficult to see why. In a bright sounding system it could quite easily crucify the sound. In a neutral balanced system it excels. For a long time I considered it to have a narrow staging which I still stick by, but this is easily made up for having a strong mid-range full of character and a nice space around the vocals and individual instruments. Said by many to have a vigorous treble quality, I personally never recall this being the case. Very precise and with strength in the higher register, but never fatiguing or overly bright. Reasonably tight and tuneful in the bass and nothing to cause concern as it gets it just about 'bang on correct'. For me there is a definite narrowing in the width compared to say the Blue Note and switching from one to the other was like bringing the walls in a touch closer with the AT.
As Bauzeace said it sits I fine balance on the fence and it can fall either way. It is probably the best description and a definite 'hear before you purchase' item. Works excellently on a Mission774 which is why it lived on one for so long.
A very missed item, but at least it left lingering memories in much the same way as a Dynavector Ruby did many years ago.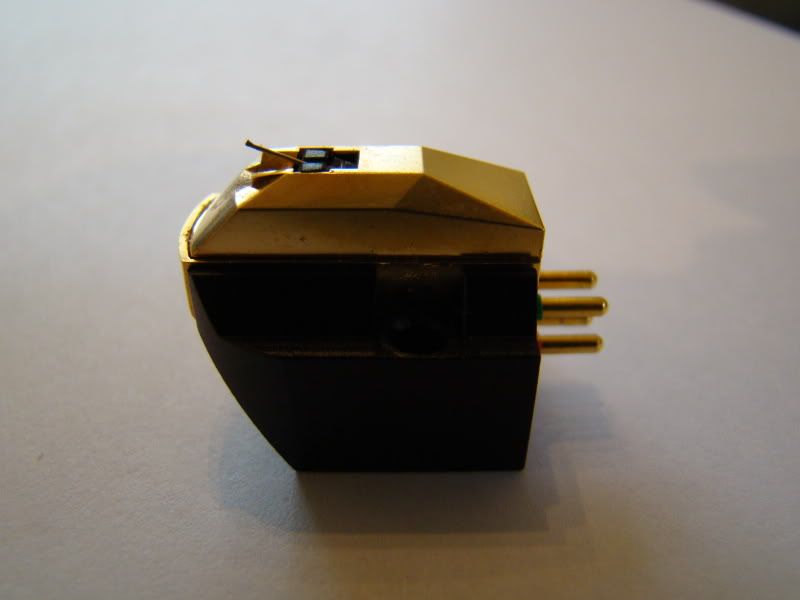 I was thinking of may be passing the Blue Note on to make space for something new in the future for the Pink Triangle project, but as I was saying to a VE member earlier, all this playing around with cartridges actually made me realise the PT is sadly missed until it is resurrected in the near future. Complete with the Boboli as I know I would curse myself if I ever let it go.
I would be chuffed if any DL304 or Benz ACE owners could pass on a few hints as to settings etc which can push their already wonderful boundaries a little further.
In passing each and every one of these cartridges are absolutely superb trackers and stick to the grooves as if they were glued in to the record.
Overall I would recommend any of these cartridges to anyone in the market for a MC at around these price levels. The Blue Note for its overall balance (but not the easiest cartridge to accommodate), the 304 with its musicality (but at this moment at the expense of the mid-range detail), the OC9 for its richly presented mid-range (needs careful system matching though) and the Benz for the rich texture and musical insight, but do be aware it is critical of bad recordings.
Sorry to have prattled on chaps