Been away from here for a little while. A LOT of crazy stuff has happened in the past few months. With my old Technics integrated amp pooping out on me, then the holidays, buying a '91 Mazda MX-5 which I've been devoting time and money on, then very sadly, my mother passing away last month unexpectedly which could have been completely avoided IF the doctor did what he was supposed to do... but I'm not going to get into that here. I will say that he'll probably be loosing his license soon though. So I've been keeping my father company as well as helping with stuff around the house, etc, etc...
Anyway, back on topic...
As for the Technics integrated amp replacement, I now have a 1950's Baldwin tube amp that's been converted over to stereo, then I did a total recap on it minus the bypass caps. I also rolled all the tubes in it several times until I got the optimum combo that I like and works well with the NHT 2.9's. It uses two 5U4 rectifier tubes, two 5751 driver tubes, and a quad of Russian coin based 6N3P-E's which are equivalent to 6L6's. This is good for a very solid 23 watts or so.
Since the Baldwin is just an amp, I needed a good preamp that had plenty of inputs including a number of phono inputs. Enter the highly acclaimed Accuphase C-200. This thing has inputs out the ying-yang including two phono inputs, one MM and one MC, both of which have adjustable gain as well as load matching on one of them, is in mint shape inside and out and sounds excellent. I replaced a couple of resistors on the power supply board, then replaced all eight of the various power supply and filter caps. Both units have been operating flawlessly for the past couple of months and sounds much better than the Technics ever did.
Anyway, remember that Elac 50H idler wheel I bought a while back? Well I got it in the mail and it looks brand new. However, under closer inspection, the center hole is much smaller than that of the 40A, so I wasn't able to use it. So I'm still on a search for a replacement idler wheel. I've tried sanding the original one down some but it didn't seem to do much good.
I really want to get a new or replacement idler wheel for this Elac Miracord 40A so I can start using it again with zero noise and the current idler wheel is the only thing making any noise on it. It's find when the music is at a normal level, but gets annoying on quiet passages.
Any ideas on where to find one?
Here's a few pics of the "new" gear...
The caps that replace the two large multi-section aluminum caps on top of the amp...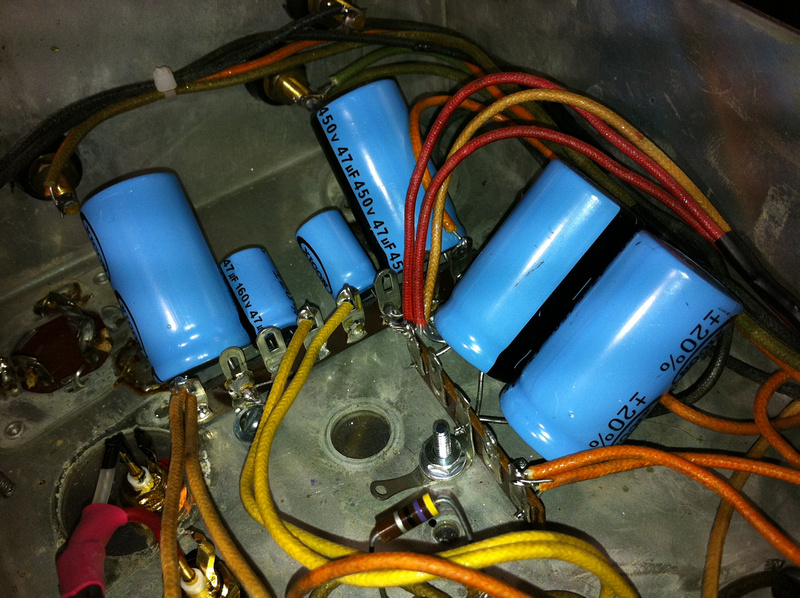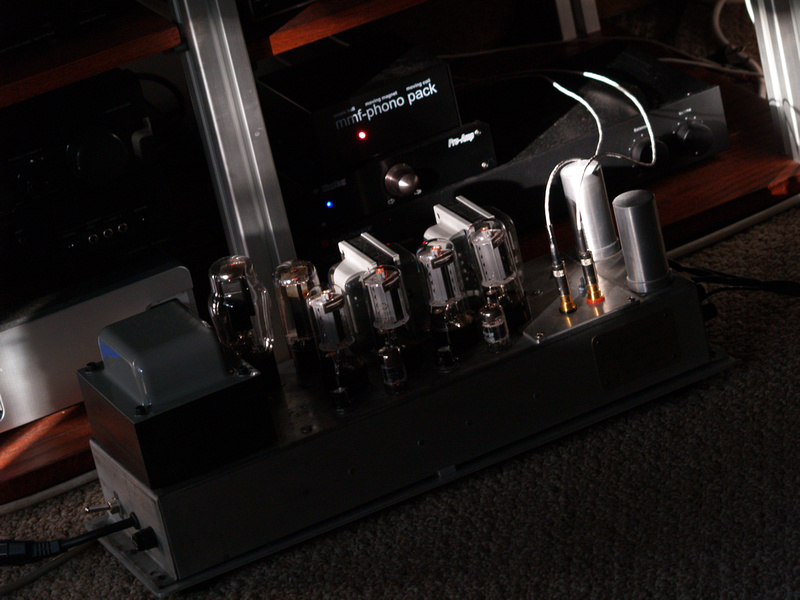 Before...
After... (only 6 new caps shown)