Thought it very appropriate Song no.9 should be a Beatles song!
Ringo :
"The first record, 'Love Me Do', for me that was more important than anything else. That first piece of plastic. You can't believe how great that was. It was so wonderful. We were on a record!"
.
.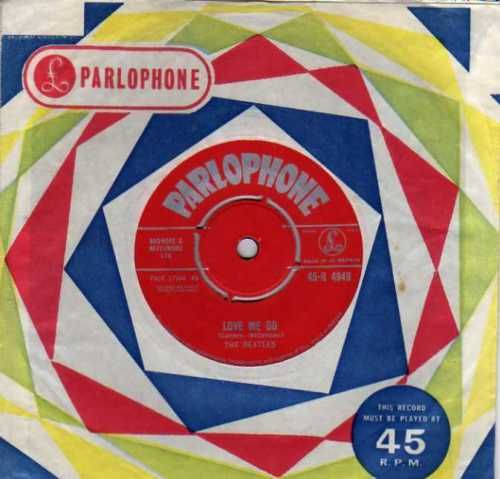 .
Love Me Do
/ P.S.I Love You Parlophone 45-R-4949, released in October 1962 was the fab four's first Parlophone single in the UK, and got to no.17 in the Pop charts. The record has been discussed at length on these and many other forums but there are still a few stories to tell...
.
http://www.youtube.com/watch?v=_xuMwfUqJJM
.
John Lennon and Paul McCartney wrote this in 1958, when John was 17 and Paul was 16. They made time for songwriting by skipping school. They had written songs before, but this was the first one they liked enough to record.
McCartney wrote this about his girlfriend at the time, Iris Caldwell.
It was released in England by Parlophone Records, but it took a while before they could get a record company to distribute it in America. The Beatles wanted Capitol Records to release it in the US, but they refused, figuring it would flop. It went to Tollie Records, who released it in America during Beatlemania in April 1964, nearly two years after it was released in England.
.

.
The Beatles recorded versions of Love Me Do with 3 different drummers. At their first Parlophone audition in June, 1962, Pete Best was still their drummer. When they recorded this on September 4, Ringo was their drummer, but when George Martin decided this would be the single, he had them record it again a week later. At this session, he used a session drummer named Andy White and stuck Ringo with the maracas/tambourine. The version with Ringo drumming was released as the single, but the version released on the album had Andy White's drumming and Ringo on maracas/tambourine...Ringo didn't pitch a fit when he got bumped at the session, but was very upset and felt rather insecure, especially since The Beatles had fired a drummer, and Ringo had just given up a lucrative drum stool position in Liverpool with Rory Storm and the Hurricanes.
George Martin apparently explained: "I never suggested that Pete Best must go. All I said was that for the purposes of the Beatles' first record I would rather use a session man. I never thought that Brian Epstein would let him go".
Early pressings of the single are the 4 September version—minus tambourine—with Starr playing drums. But later pressings of the single, and the version used for the Please Please Me album, are the 11 September re-record with Andy White on drums and Starr on tambourine. This difference has become fundamental in telling the two recordings of "Love Me Do" apart. Martin commented later: "I looked very hard at 'How Do You Do It?', but in the end I went with 'Love Me Do', it was quite a good record."
Martin came very close to issuing "How Do You Do It?" as the Beatles' first single (it would also re-appear as a contender for their second single) before settling instead on "Love Me Do", as a mastered version of it was made ready for release and which still exists in EMI's archives. No original master tapes of the 4 September version of "Love Me Do" are known to exist. Around 1980, a reasonably clean, original 45 from EMI's archives was used as the "best available source" for the track's inclusion on the Capitol compilation LP Rarities.
A few years later, a new master tape was struck, this time using another, better-sounding 45 supplied by a record collector, and this has served as the official EMI master tape for the original "Love Me Do" ever since.
When this was first released in England, it was not a huge hit. The Beatles' manager, Brian Epstein, was so confident in the group that he gave the single a big marketing push by buying a bunch of copies of it (some say 10,000) for his record store, which helped get it on the charts and ensured more exposure for the band...the rest, they say, is history..
.
.
The record was re-released in 1982 as part of a 20th Anniversary series, with picture sleeve. The record was a facsimile of the original 1st issue but with marked differences...
.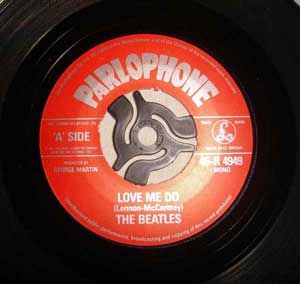 .