"Surf " music was huge in the 60's, Surfing as a sport is enjoying great popularity in the UK, especially in Cornwall, and believe it or not we have some world beating waves here when the currents are right!
.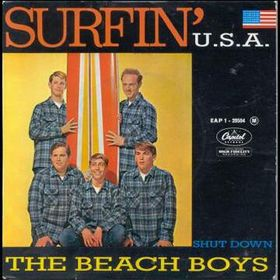 .
Surfin' USA
, a huge hit for the
The Beach Boys
in March 1963, was based on Chuck Berry's 1958 hit "Sweet Little Sixteen." The Beach Boys did it as a tribute to Berry, but didn't get his permission first - maybe because Berry was in jail for transporting a minor across state lines. When Berry threatened to sue, The Beach Boys agreed to give him most of the royalties and list him as the song's composer. The song also helped build Berry's legend while he served his time.
Brian Wilson claims the song was merely influenced by Berry, as well as Chubby Checker and Jimmy Bowles, the little brother of Wilson's girlfriend Judy. Bowles came up with the list of surf spots which were included in the song.
Many of the early Beach Boys' songs were about surfing. Dennis Wilson was the only Beach Boy who actually surfed, but surfing was very popular at the time with teenagers who bought records!
.
http://www.youtube.com/watch?v=TKNM6fAiJjs
.